Post by Global Derby Society on Jul 5, 2011 15:07:17 GMT -6
Over the past few months I have had many builders call and or write to me for informations with the ongoing of proxy league racing as well as ongoing proxy league disputes. Based upon what I know or been told, I will attempt to cover as much information as I can based on public knowledge of events, without going into the he said/she said dramas. My rationale for handling this way is due to what I read taking place, where builders are not constructively arguing about how to help racing as a whole, regardless of league or vendor loyalties. Instead, they seem to be caught up in the wording, how it was said or the OMG who was that directed towards.
THIS IS
NOT
ABOUT OR DIRECTED TO ANYONE BUILDER, ANY PARTICULAR LEAGUE, OR ANY PARTICULAR VENDOR.
I believe it was in 2003 when the WIRL intiated proxy league pinewood derby racing in Marietta, Georgia. League racing grew rather quickly with the building of [W.W.M.D=sic]
[sic]
[/W.W.M.D] Bob Dole's internet. It was this model the WIRL started to which PWDR, WIPR, CCRL, East Coast Derby, PDDR and others have copied. Below is a flow chart from which each league took its birth.
The "top" two leagues (by participation) to date are the PWDR and PDDR. The WIPR league seems to be more based upon raising money for local foundations in the Dayton Ohio area (to the best of my knowledge). E.C.D was started in 2010 as a venue to give a large number of locals racers in the Carolinas to gather and race. The league ended at the end of 2010, however there was still significant interest in local racing and thus began CCRL. Both CCRL and E.C.D. made it possible for proxy racing to take place.
Over the years both of the "top" leagues have gone through their own personal turmoils and upheavals. There were various reasons for this such as: family issues, financial burdens, incarceration, builder confidence. Whatever the issue was/were each league seems to do its best to move forwards.
As I see it, all the leagues have had issues at one time or another. No one issue was any more important then anyone elses, as walking a mile in someones shoes is the best way to see how things become effected. Each league has benefited to some degree on "rival" leagues having issues. Issues naturally cause people to question, to wonder the who, what, when, where's and why's of how overcoming issues will be address as well as fixed. The world and our lives are ever changing day to day. Being able to accept change and move forwards is what helps us day to day in growing as people and as groups. Recently the PDDR has been going through some major upheaval after years of being around and are now in a transitional regrowth period as they have had to relocate their league. Also a venue change for the time being is taking place over at the PWDR. From what I hear things are being ironed out/finalized to assist PWDR in maintaining their status.
COPY
is a term that is loosely used quite a bit lately. This league copied, this vendor copied, this builder is copying, this forum copied...
Charles Caleb Colton said it best,
"Imitation is the sincerest of flattery."
With that being said, I would think builders, vendors, leagues etc.. would be flattered when they are copied! It shows they were doing something worth repeating. Seems that is a compilment. Derbyworx and Pine Car decided many years ago to improve the tools and products in order to make pinewood derby car building become easier. Their various products gave success to the builders who used them. As proxy league/professional racing gained momentum, the need for more specialty products, improved wheels, axles, weights etc etc... have pushed companies to improve what they already produced as well as come up with newer, faster products. Ultimately each has copied what the other put out and their copy was intended to improve the intial product. Without products to copy there would be no need for various companies and vendors to be around. Basically every company and vendor HAS COPIED someone else. As soon as all realize this, the feelings of omnipotency can subside.
There is a term that is also being used in relationship to this
copy
word, and it is
alias
. So with [W.W.M.D=sic]
[sic]
[/W.W.M.D] Bob Dole's internet developing, the idea of anonymity has been taken to a new level. We have seen court cases of parent setting up false facebook pages to harass students, mass emails from sheiks and billionairesses wanting you to help them bring their wealth to american banks and we have seen it on the forum level with builders registering multiple names. Builders use the alias for various reason. Some race under different builder names, there are husband and wife racers so each have their own account or they are merely looking to be deviant. The most common deviance is using these multiple names to instigate via inuendos, to speak out negatively but not have it attached to themselves or to constantly be a source of negativity. A close second, is its use to stir up some controversy in order of having its forum builders "come together" and bond by defending honor against this controversial message and builder. After such actions take place, what follows is a builder or vendor to type out extended apologies proclaiming bygones will be just that and a bigger man is here to help resolve the issue. A couple weeks follow this event which is then followed by a new builder name or two being registered and suddenly this newbie builder knows the interworkings and dramas that have been taking place. By the way, it is abundantly obvious who is who when these actions take place.
Before I started this forum I was someone that used multiple builder names. Vary rarely to cause trouble outright, but mostly to hype products being sold, to show growth in the forum numbers, to show there is action taking place on the forum by many builders, not just the same builder over posting. Anytime I had controversial or negative postings I felt I wanted to make, I always used Mood Swing Productions. Those postings were to try and help make change regardless of how words and thoughts were taken. However before I deleted my account over at the PDDR, I used my administrative powers to delete all the alias I used. I also deleted other administrator, moderator or builder alias names. After doing this a drop of nearly 75 builder names in over all membership was seen.
Jerry Springer final thought...
With all of the above said, I really hope there can be a time when everyone remembers what the common topic is regardless of league affiliation, vendor loyaltys and friend cliques... That common theme is: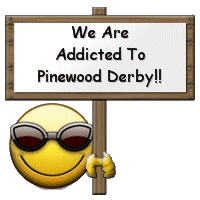 We all do not have to be friends with each other and spend time weekly chatting on the forums or on phones. We don't have to care where so-n-so buys his products to use on his car. We don't have to care who is who's friend and then not liking that person because my friend doesn't. It shouldn't matter where loyalties stand.
What SHOULD MATTER is we all love to build these cars and see them race. The difference in most races between first and last place is mere thousands of a second.
IF you are a league owner, forum administrator, product vendor and even a builder what should be most important to each and everyone is helping this hobby/sport grow. By creating growth you will have more builder particiaption, more product sales and more fun.
PWDR = Pinewood Derby Racing
WIPR = Pinewood Derby Racing
CCRL = Pinewood Derby Racing
Scounter/Nationals = Pinewood Derby Racing
WIRL = Pinewood Derby Racing
PDDR = Pinewood Derby Racing
Derbyworx products = Pinewood Derby Racing
Evolution products = Pinewood Derby Racing
Derby Monkey = Pinewood Derby Racing
JE = Pinewood Derby Racing
I could continue with more if you have yet not gotten the point??
Lets keep all replys to what is read here above board and positive, please. I have a delete option and debit of global loot for those who forget.