Post by *5 J's* on Apr 25, 2011 12:15:18 GMT -6
My name is Jeff Burnham and I too am an addict....
I am a Test and Evaluation engineer working for the US Navy on Arleigh Burke Class Destroyers (DDG-51 class). Been building and testing these ships in excess of 20 years. Anyway, my Pinewood Derby career started back 1975. The car was beautiful - kind of a high gloss black Trans-Am. I drilled a 1" hole in the bottom of the car and put a screw in the center then melted lead into the hole to bring the weight up to 5.00 ounces. Boy was I ready to show the rest of the scouts how to build a winning car - problem was the screw rubbed on the old wooden track. Made it to the finish line - but no where near the fastest - so let's skip to the future...
Three years ago my son and I built his first Pinewood Derby car when he was a Tiger Scout. Our Den leader had given my son a copy of David Meade's book for Christmas. After reading this book - I knew there was much more to learn about PWD and soon after joined DerbyTalk to gather more info. That year my son placed first in Pack and twelfth in District.
While an active member of DerbyTalk I became aware of the other forums on the ProBoards as well as proxy racing - but I still felt I wasn't ready for League racing. As a Wolf my son again placed first in Pack and fourth in District.
This season I built a few cars to send in to PWDR. One uses purchased wheels and axles, while one is running wheels and axles that I prepped myself. They are both running consistent, that is consistently middle of the pack. I'm having fun and continue to try to figure out ways to pick up a few thousandths... Would be great to find a hundredth or two

This year my son again finished first in Pack and Fifth at Districts. He hurried his staging a couple of times and he had a couple of off runs.
So why 5 J's? Well I four children all starting with J's and well as myself. <one 'J' was stillborn however>. All my children, daughter included, like to race. At a Pack fund raiser race last month Team 5 J's took 1st, 2nd, 3rd, and Best of Show. Below is the picture of the winning team with their trophies and the cars below that.
My elder son had a couple more years of scout racing as a Web, and I my youngest will be a Tiger the year after next - so I still have a few years of scout racing. By then I may be a full fledged proxy addict

I really wish there were more people in Maine or even New England into Pinewood racing. I have built my own test track - but it doesn't replicate the aluminum tracks very well, but it's helps in tuning the cars, and the kiddies have fun racing on it. I haven't purchased any Pinewood specific tools - but I am thinking I need a lathe if I ever want to even think of threatening the front runners ;D Hope to join you all at the front soon...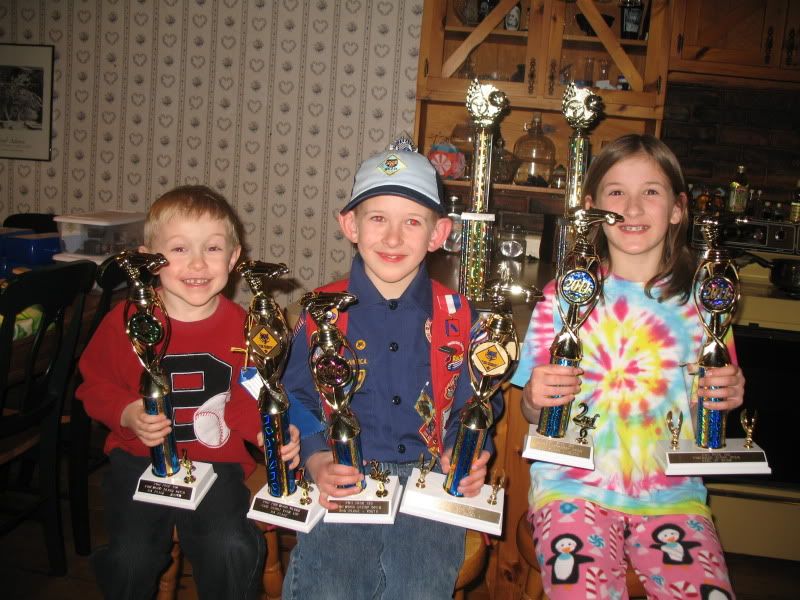 The kiddies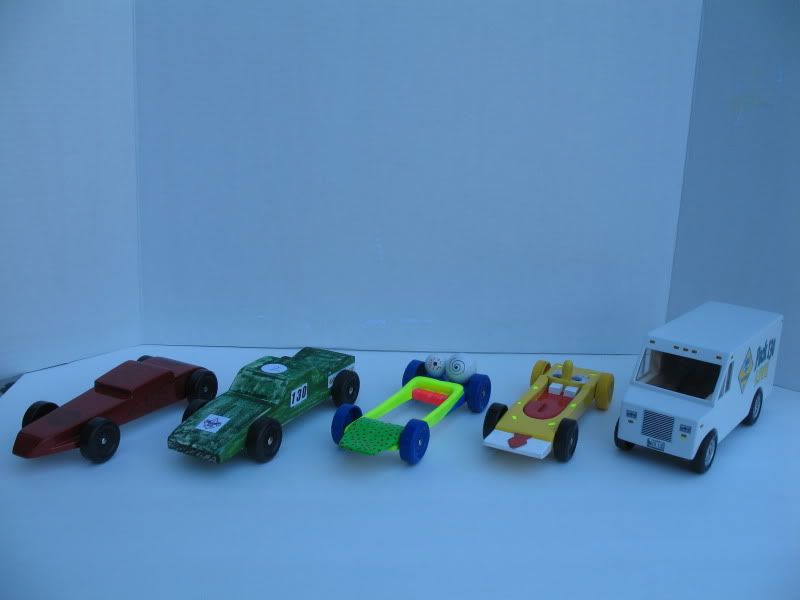 The kiddies 2011 cars and my "News Van"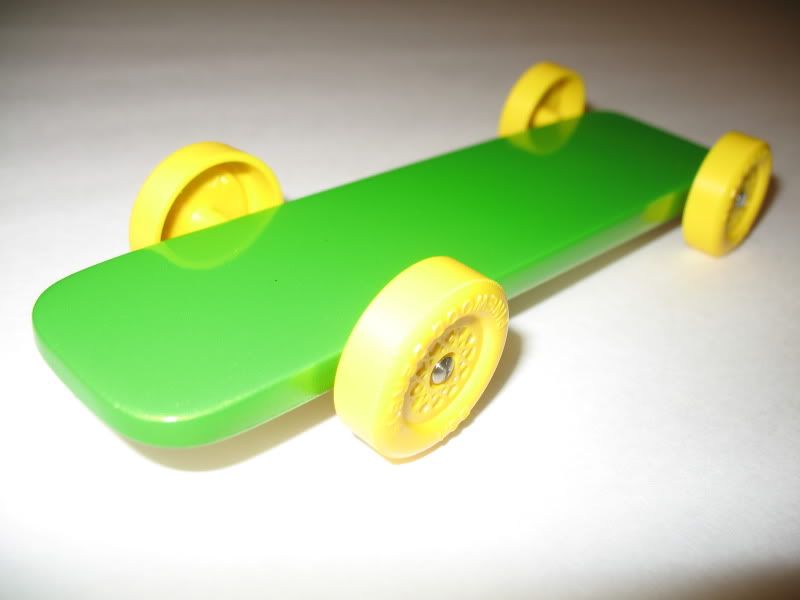 Limited league car - Lemon Lime